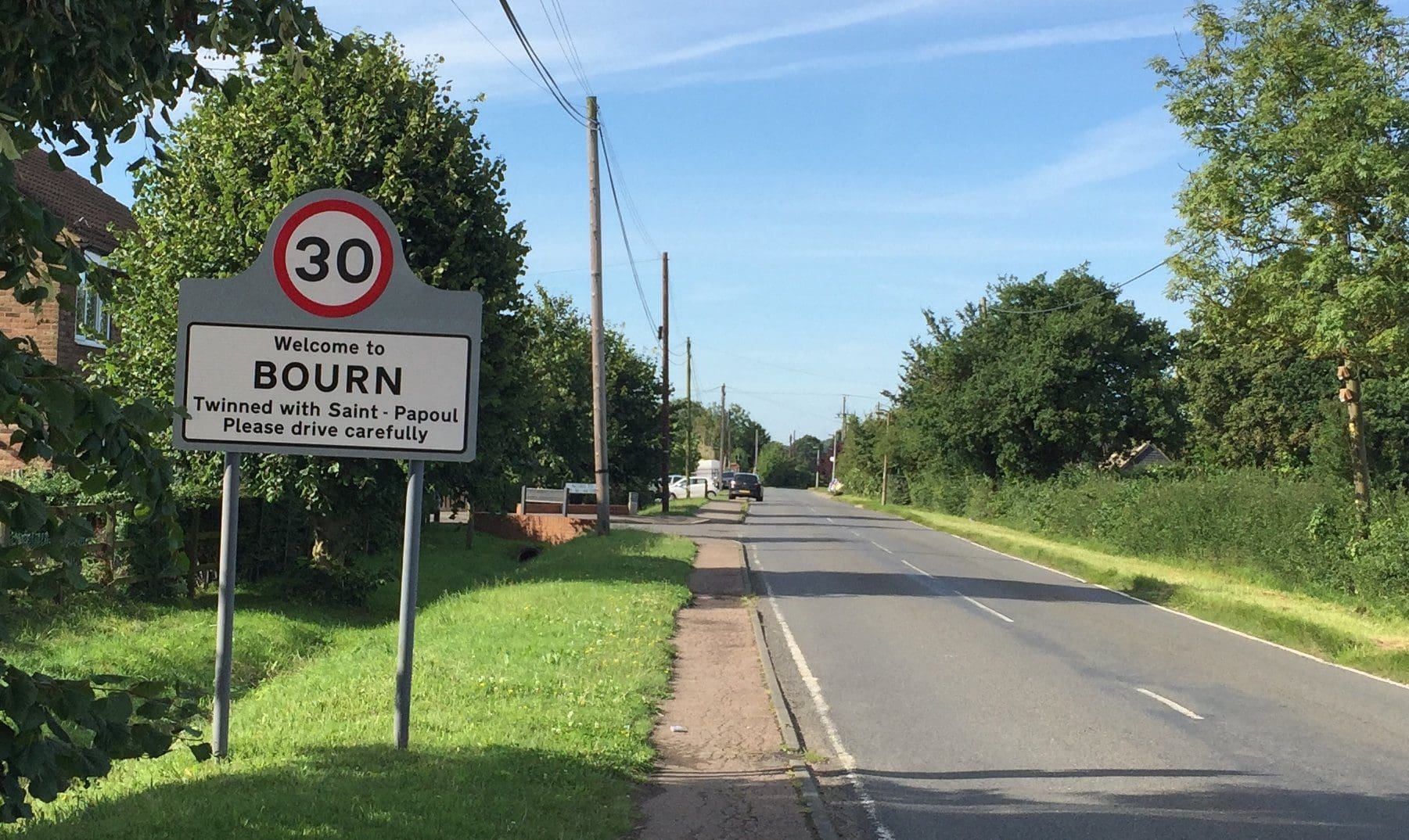 The Community Speedwatch in Bourn restarted in April 2019 following requests from residents.
Set up by the Parish Council it is primarily a volunteer organisation in conjunction with the Police.
The village, including some approach roads, has a 30mph speed limit, except within the central housing area where it is 20mph. This covers areas of higher pedestrian activity and includes Short Street, with the village shop and village hall, Church Street, Baldwins Close, Hall Close and Riddy Lane, with the school.
What is Speedwatch?
The aim of Speedwatch is to educate drivers to keep within the speed limit which can help protect cyclists, pedestrians, and themselves, and can reduce the severity of accidents.
Speedwatch monitors traffic speed at irregular intervals. This can be on any day, of any week, throughout the year during daylight hours. Vehicle speed is monitored with a visual display which also informs the driver of their speed. Volunteers collect the time, speed, registration number and identifying details of all vehicles exceeding the speed limit and a report is forwarded to the Police.
Initially a letter is sent advising them that they were speeding and to request that they respect the safety of villagers and keep to the speed limits. In cases where drivers are regularly ignoring advice or where repeat offences occur the information is collated by the Police and further enforcement and prosecution can follow. Vehicles being driven illegally are also likely to be noted by the Police and further action taken.
All Speedwatch locations within the village are agreed as suitable and safe by the Police.
Join Speedwatch - Get Involved
Every Speedwatch session requires a minimum of three trained volunteers to be present and, although we have fifteen currently signed up, it is not always possible to agree suitable times. The more volunteers we have, the more often we would be able to hold a session. Having said that, there is no minimum attendance requirement.
All volunteers must attend a training course given by Cambridgeshire Police which sets out the rules of operation and guidance. Our co-ordinator will be able to give you more information.
If you would like to join the Speedwatch campaign, please contact:
Councillor Les Rolfe, co-ordinator, on 01954 718150 or by email to [email protected]
or Councillor Des O'Brien on 01954 718115 or by email to [email protected]
Recent results
Speedwatch session results for November 2019
Only two sessions this month – it's getting colder and the daylight hours are drawing in
| | | | | | |
| --- | --- | --- | --- | --- | --- |
| Date | Time | Location and speed limit | Total vehicles recorded | Number of vehicles reported | Highest speed mph |
| 20th Nov | 08:00 – 09:30 | Broadway (northbound) 30mph | 202 | 25 | 50 |
| 26th Nov | 08:05 – 09:00 | Broadway (southbound) 30mph | 205 | 17 | 41 |